Sick and tired of going through the process of burning firewood every year? Check these out! These bricks are a great alternative to firewood. Delivered to you on pallets made up of 50 - 40-pound packages. Store the pallet in your garage, shed or basement and be done 'splitting and stacking' in minutes!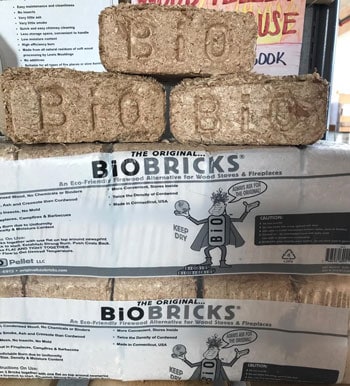 One pallet of Original Bio Bricks replaces about 1 cord of firewood heat! Also, unlike wood, these bricks have a very low moisture content which allows the product to burn with very little ash and no creosote.
Pricing
for Deliveries in maine
$329
---
For delivery in New Hampshire
Add $10 per pallet for 10 or more pallets
Add $15 per pallet for 6 or more pallets
Add $25 per pallet for 3 or more pallets
Add $45 per pallet
---
Original Bio Bricks test results
Finished Weight – 2 lbs Finished Product Shape – Rectangle Brick Contents – Hardwood Shavings
Calorific Value – 8400 BTU's/lb
Moisture – 8%
Ash Content – less than 1%
We deliver the Original Bio Bricks on pallets made up of 50 40lb packages. 1 pallet is equivalent to 1 ton.