PRicing
1 Ton $269.00 Delivered..... NOT AVAILABLE
---
In 2016 Maine Woods Pellet Company has started to produce a 100% softwood. If you are looking for something that burns hotter and cleaner than their hardwood mix and are price cautious, then this is the way to go! This product, unlike most of our other softwoods, is made up of pine, fir & hemlock. Unlike a wood stove with hardwood pellets, softwoods tend to burn hotter, which allows the product to burn cleaner.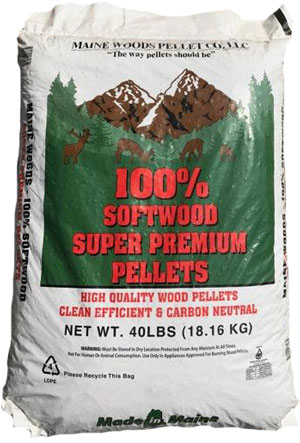 To be considered a Super Premium product the pellet has to meet certain test requirements.
Pricing
1 Ton (50 Bags): $269.00
Sale Price : $264.00 Delivered
Super Premium Standards
Pellet Durability - Greater than 96.5
Fines – Less than 0.50
Ash Content – less than 0.5%
Pellet Length - Less than 1 inch
Moisture Content Less than 8.0
BTU Value N/A
Maine Woods 100% Super Premium Wood Pellets
Ash Content – Less than 0.5%
BTU Value – 8600
Fines – Less than .5
Moisture Content – 4.5
Pellet Length -1/4" – 1"
As you can see, because softwoods burn hotter this allows the product to burn cleaner!
We deliver these pellets through the state of Maine in 50 40lb bags.